Tales of an unnatural networker
Sep 10, 2021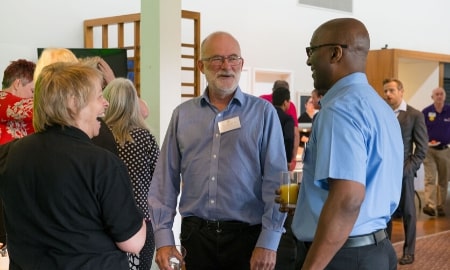 A few Do's and plenty of Dont's
Are you a natural networker? I'm not. The networking successes I've achieved have only come after making countless mistakes. Recalling them right now is making me grimace. But hey! It's all good therapy. In this blog, let's pick our way through the networking pitfalls to avoid and the strategies to employ. This will give us the best chance of achieving our networking goals.
These goals. What are yours? Why go networking in the first place? I have two goals -
To get business
To enjoy the social interaction
(What an ugly euphemism - 'social interaction'! Let's replace it with 'meeting people', 'having fun', 'enjoying the banter'.)
Nervous - then petrified
My first ever networking event. How could I forget? It was late summer 2014, and I'd just launched Copywriter Pro. I needed clients - fast! The event took place in a Northampton town centre restaurant. I donned my best suit and armed myself with a briefcase. There was nothing in it - I just thought it would look 'business-like'.
Before turning up, I was nervous. Having arrived, I was petrified. Everyone, but everyone, seemed to know each other. In fact, they all appeared to be best mates. I thought I'd crashed a birthday party. Taking the plunge, I elbowed my way into a group and joined in heartily with the laughing and joshing - without a clue as to what was going on.
Barging in
Next, my first big mistake. With no regard to the drift of the conversation, I interrupted the discussion. I introduced myself - thrusting my shiny new business cards into the hands of my clearly bemused and reluctant fellow networkers.
Next big mistake. As lunch got underway, I proceeded to talk mercilessly at everyone with the gross misfortune of sitting within five places - in any direction. After all, hadn't they taken a couple of hours out of their day to hear my life story? OK - possibly not.
Mistake number three. Time for us all to make our 45-second pitches. For my part, I gabbled my way through the entire gamut of my astonishing copywriting skills - the word 'I' cropping up with remarkable regularity.
Sending out spammy emails
Mistake number four. I dashed home excitedly, anticipating my inbox stuffed with emails fighting for attention in my inbox - each expressing an immediate demand for my irresistible services. Disappointment. No such luck. Undeterred, armed with the meeting's attendee list, I bashed out two spammy emails. One was to each person I'd managed to speak to. I expressed my pleasure at having met them and re-iterated the brilliance of my amazing copywriting talents. My second spammy email crashed uninvited into the inboxes of those individuals fortunate enough to have missed my company for lunch. Again, I vigorously promoted my services.
The result? You already know the answer. A hungry inbox and an even hungrier order book. Where on earth had I gone wrong?
Let's take a look at 4 steps towards networking success -
1. Prepare
Print out the attendee list the day before. Who on the list would you like to meet? Who is attending for the first time? Think about why you're going to the event. Forget the idea of selling to the room. Instead, consider
(a) how you might be able to help them with the knowledge and contacts you have
(b) who they might know who can help you with your business.
2. Look for the loner
When you arrive, don't make a beeline for your buddies. Yes, it's fun to catch up for a bit of a 'goss'. But that's too easy. Instead, look around the room. Who's new? Who's standing at the edge of the room, eyes glued to their phone, pretending to scour their messages, terrified at the prospect of finding themselves in a room full of strangers. Approach them. Say 'Hi!' Get them a coffee.
Next - and this is so important. Show an interest in them - as a human being. 'Are you local?' 'Do you do a lot of networking?' 'Tell me about what you do', 'What part of your work do you enjoy most?' 'What's the most challenging aspect of your work?' You know the kind of thing. Show a genuine interest and, of course, introduce them to others in the room who might be useful connections. Do this, and the lonesome newcomer will begin to feel they belong. They will thank you, remember you … and, of course, love you forever!
The Holy Grail of networking
Firstly, showing genuine interest in others in your networking group will make you come across as a nice person (not a bad start). Soon, as people get to know you and learn about your skills, you'll become known as that nice person who knows their stuff. Now you've reached the Holy Grail of networking. You've earned the reputation as someone who's a 'friendly expert'.
3. Pitch perfect
You'll be terrified. Almost everyone is. The prospect of public speaking comes second in most people's fears - the first being the small matter of dying! The good news? Everyone knows and understands your terror. They're on your side. They're with you. I guarantee - not a single fellow networker will judge you for a nervous pitch. I also guarantee that, in time, your nerves will diminish - maybe not totally. Anyway, a nervous tickle in the tummy can be a good thing.
Again - the answer lies in preparation and practice. In the early days, don't be ashamed to read aloud - preferably not from your phone. It doesn't look great. The pitch itself? Well, that's a whole blog in itself. Briefly -
Don't waffle (a bit rich coming from one of the world's best-known wafflers). Give your pitch structure - although there's no single perfect structure to a pitch.
Begin with a memorable strapline. Use it to get across how you improve people's lives and what you do to achieve that. Benefit first - then, feature. (Avoid saying, 'I help people …'. Everyone says that. Instead, tell them how you get things done.) Let's say you're an accountant. Instead of 'I help people to organise their accounts', try 'I save my clients time and money by organising their accounts…'.
Don't 'sell' to the room. Tell your audience about who you're looking to connect with … and be as specific as you can. Never, 'I'm looking for anyone who …'. Much better to say, 'I'm looking for FD's in the xxx sector'.
4. Turn up
My final piece of advice? Turn up … consistently. It might be weeks or a few months before you see concrete business results. But, by simply being there at every meeting, you'll develop a reputation for that most sought-after quality in business - consistency.
Follow these steps, and you'll make a sound, promising start to your networking life. You'll soon learn how much you can earn through networking … and how much fun you can have!
---
Stephen Church (Copywriter Pro) is an SEO Copywriter. He uses his love for language and knowledge of marketing to help businesses get more clients. He writes content for Websites, Newsletters, LinkedIn profiles, Case Studies, Media Releases, Blogs and Annual Reports. Stephen loves working with businesses of all sizes, especially those who understand the immense value of compelling commercial content. Give him a call - 07703 472207 - and let him know how he can connect you with new clients as well as others who can help take your business forward.