When did YOU last learn anything new?
Jan 4, 2021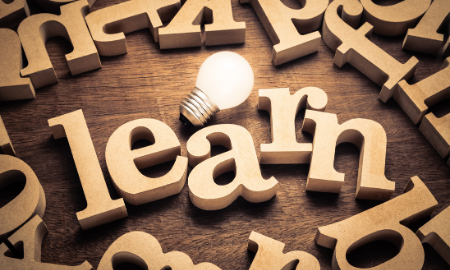 So how would a small business owner find time for personal development if they can't even find time to keep their business on track?
Small business owners are notorious for fire fighting and muddling through. They are so busy managing day to day, they rarely stop and smell the roses. Few pop their head above the day to day shenanigans to test the waters on how they are faring, compared to where they had set their business intention.
So how would a small business owner find time for personal development if they can't even find time to keep their business on track? Simple. Combine the two - strategy and personal development, that is.
But I don't have the time?!
Many years ago I decided to embark upon an MBA programme with Nottingham Law School. I'd blagged my way onto the programme based upon the fact that I would be bringing business expertise into the cohort, whereas the other participants were all lawyers and barristers with long-standing legal careers under their belts. I didn't even have an A-level, never mind a first degree. The course was way outside my comfort zone, yet I just knew that I could do it.
At the time, I was running a 25 strong finance department within a top city law firm, my son was 4 months old and my daughter was 12 in her first year at senior school. Everyone thought I was completely mad. How was I going to pull this one-off? Well, it was hard, that's for sure, yet it was such great fun too and I learned so much during the two-year programme, about myself and about delegation, collaboration and accountability.
I learned that watching the BBC news every day was a waste of time and that reading three newspapers every day to keep up to date for my work role was unnecessary. I learned that it was possible to study on my commute, even though I stood for most of the way in a crowded train carriage. My musician husband and my grown-up daughter took on the ironing between them and when assignments were due, I stayed late in the office to write up my contribution in peace and quiet.
Alongside my studies, I had a full-on role in the office and was mentoring my two middle managers to take over from me - I was planning my escape into a consultancy role with the blessing of my employer, who also kindly paid for the programme as part of my exit arrangements.
Each assignment required an investigation into areas of the firm which I had no business delving into under normal circumstances. Under the pretext of the MBA, I was allowed access to interview senior partners on all manner of business operational topics. This served to provide fodder for my assignment, the firm benefitted from an internal 'safe' consultancy review, and everyone was happy. My second year dissertation even gained a small mention in the Law Society Gazette. I predicted the rise of paralegals within law firms. 25 years later, paralegals are now commonplace, although rarely heard of in 1995-1997 when I was studying.
The moral of this tale? Don't be complacent. You WILL find the time. Take up a study programme that will stretch you personally. A programme that requires you to take a serious look at your business. You will find support and new friendships from your peers on the course and potentially new vigour as you look at your business through a different lens.
---
Elaine started her first business in the late 1970s which was very successful in kitchen design, retail, installation and manufacturing, In 1986 things went wrong. She lost everything and then experienced a period of 12 years within corporate employment in the City of London. Starting as an administrator for a consultancy firm within an accountancy practice, Elaine progressed through several roles and firms to become CEO of a law firm and COO of a business consultancy with over 220 members; as well as running many projects as an interim to empower teams to achieve higher results.

In 1997 she graduated with an MBA in Legal Practice from Nottingham Law School. She has since become a 3 times Amazon #1 best selling author and collaborated on 8 books in total. Elaine also hosts her own podcast and have mentored hundreds of individuals and businesses to become more effective, productive, efficient and healthier.
To find out more about Elaine and how she can help your business - visit here: discprofilingbyelainegodley.com