Is email marketing effective?
Nov 6, 2020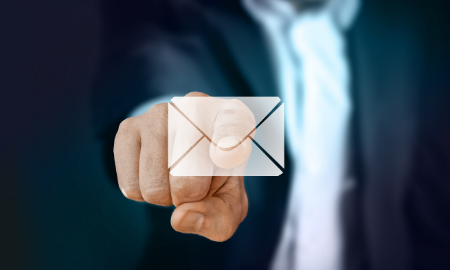 Quick answer is yes. Yes, email marketing is effective. The longer answer is that it's effective when it's implemented correctly! So many business owners dismiss email marketing because their database is too small or they're uncomfortable with selling via email, but there are a few things to consider before dismissing it. Email marketing continues to be a staple online marketing activity that yields fantastic results. To get it right, you just need to figure out the answers to these three questions.
What are the best types of marketing emails to send?
To answer this question, you need to be clear on what your subscribers want and what value you're going to be able to deliver them via email. This is your opportunity to give them something they can save and keep hold of.
If you are offering a service, use your emails to demonstrate your experience and knowledge, to build trust and educate your prospects, so they know how to identify they have the problem your business solves! If your business is product-based, your emails should create desire – sell the experience of what life is like for people who own your product.
Ideas for the type of marketing email you could send vary from value-packed newsletters to personalised offers. Emails that add value often educate without selling so look for those opportunities. If a customer purchases product A, send them some information on how to get the most out of the purchase. Build loyalty that encourages them to buy product B and C over time. Alternatively, it might be that you are emailing updates and asking for feedback on service offerings. Keep your prospects in the loop on the new and exciting things you have going on – let those individuals feel like they're part of your story through your email communications.
What's the best way of implementing an email marketing campaign?
I would hope I didn't have to tell anyone reading this to not send bulk emails via Outlook! However, there are a ton of options out there that all offer different functionality and at different price points. Mailchimp is an old favourite for me, but I find that quite often for those who don't get on with this option, Active Campaign is a popular alternative.
Whichever way you go, look for something that is fit for purpose. Your email marketing software should make managing and keeping your email lists simple with automatic options to unsubscribe and the power to allow you to send segmented campaigns. They should also allow you to create beautiful HTML emailers, that are easy for you to build and edit from one email to the next, as well as plain text emails.
How will I measure the success of my email marketing activity?
Another reason for choosing specific email marketing software is the information you can gather once your email has been sent. There are a few ways to measure success.
Looking at your deliverability will help you understand how good your data is to begin with. I would discourage you from buying data, but if you have and then find that hardly any of your emails sent have been delivered – well you'll know there's a problem and there will be some questions that need to be raised!
Understanding who opened and/or clicked in your emails from those who received the communication is powerful information. These are the people we should be following up with. By following up, I mean creating the next touchpoint. This could be another email, social media reach out, a print communication, SMS, or a phone call. (You'll know what's right from their interaction with your email and the message the email included. And, if you're not sure I'm of course happy to advise you!)
Pay attention to your unsubscribes too. For every email I send, I generally get two or three unsubscribes. If I suddenly see this increase, I want to understand why. I'll look to see what it might have been that caused the unsub. Is this a subscriber who never engages? Is there something in the subject line or preview text? What can I learn that I can take forward?
Email marketing is something businesses should do more of
Truth be told, this article barely scratches the surface of everything I could tell you when it comes to email marketing. If you've been operating for a while, you probably have a bank of email addresses you could be communicating with to build loyalty and increase revenue. It's a well-known fact that keeping a client is easier and often cheaper than finding a new one so if you aren't making use of your email database already, now is the time to start!
---
Christina works with business owners and marketing directors to educate them on how best to maximise their online marketing activities to enhance their business, increase brand awareness and ultimately increase sales. She provides social media and online marketing management services, so you can outsource your activities. Alternatively, if you have the resource in-house, Christina can offer online coaching, 121 or group coaching to help you as a business owner or B2B professional discover how to generate more business using our tried and tested strategies.
Get in touch to see how she can help you with your digital marketing: green-umbrella.biz