Is nature your missing resource?
Apr 24, 2020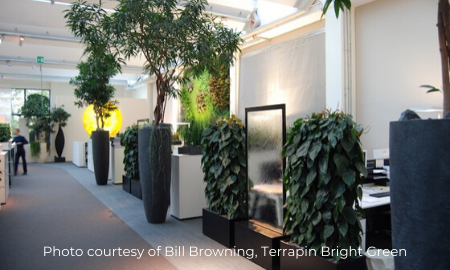 A guest blog post by Biophilic designer* Sean Clegg of Tiny Jungle. (*You're going to look that up right?!)
If a month ago, I had asked you what the five most valuable resources to your business were, how many of those items would still be on your list today?
If Covid-19 has done anything positive, it has forced us to revolutionise our way of working.
Many of us took going into the office for granted: we had our workspaces set out; requested equipment as needed and had audits to make sure that we had all of the things we needed to do our jobs AND ensure that the HSE, VDU, HR and Facilities audits passed with all boxes ticked.
But, DID we really?
On your original list of resources, how many of you listed anything to do with your work environment, nature, or the human habitat - the resource that fills the space where your business operates?
Sound
Is noise (or quiet) something that you have found is an incredibly valuable resource?
I know that quiet is important for me: unfortunately, the little shouty boy next door doesn't... which is (in that old normal world) fine when he is at school during my normal working hours so I have a professional level of quiet to have calls etc.
Light
Have you found that your new makeshift home office has copious amounts of light pouring in and you feel high from the exposure? Or perhaps you have the opposite and you can't find a bright enough lamp?
Your work environment has a direct impact on your ability to do great work and on your employees to be their best.
If you have been through the motions of getting the right equipment, making sure the work hours are correct, ensuring the pay and bonus packages are competitive, that you have the right people doing the right jobs and that the culture at work as good as it can be then you should have a great business, yet this may not be the case.
After all of that, consistently high rates of illness, low productivity, low creativity, high stress levels, low engagement and high staff turnover are key indicators (as we know) that something is wrong.
Chance are the environment have something to do with this. £2bn is lost to factors such as these each year.
Unfortunately, for many the actual environment is not something that they truly consider.
Is the resource that houses our business being optimised?
Is the air too dry, the incorrect temperature, too stagnant?
Is it too noisy?
Are there high levels of pollutants?
Are the walls painted the wrong colours?
Are there spaces to collaborate, and spaces to escape to?
The above questions are all real-world issues that reduce the efficiency of our workspace resource.
During a training session discussing the elevator pitch section of a networking meeting with Jacky Sherman from Assentiv Northants & Milton Keynes, who we all know (if you don't know her, you need to), I mentioned the impact that humidity (dry air) has on our respiratory system, and how raising or stabilising the humidity at 55-60% is optimum for our bodies.
At the time Jacky was suffering from a niggling asthma type cough and itchy throat. She happened to go home, set up her humidifier and see if my advice checked out or not.
Within hours of re-humidifying the air that she was breathing her symptoms cleared.
Imagine what positive and far-reaching impacts nature could have on you and your staff if we are able to reduce illness, increase happiness, boost productivity, unlock creativity and raise engagement in our businesses.
---
Sean Clegg (Tiny Jungle) is biophilic designer and indoor nature-scaper. He has a passion for using nature to improve all aspects of modern commerce, making an office a better environment to be working in; impacting productivity and reducing stress in the workplace. He provides custom live plantings, aquascaping, terraria and vivaria design; as well as natural interior design in work and living spaces. Email him to find out more.